What's Becontree Church all about?
Most churches belong to a 'denomination' – a bigger group of churches.
Becontree Church is an off-shoot of a Church of England parish church (Dagenham Parish Church).  That's why we're referred to as a 'church plant'. Because Dagenham Parish Church  closely supports us, it is understandable to think Becontree Church is another CofE church.   However as the area already has a CofE church, we are not one.
But Becontree Church IS an Anglican church. The 'Anglican church' is an umbrella organisation the CofE belongs to. It has a missionary section, and 'Crosslinks' is a recognised Anglican mission agency. Mike & Debbie, the team leaders, are Crosslinks missionaries.
Becontree Church is also linked to the Co-Mission network of churches through a strategy called 'The Antioch Plan'.   This partnership aims to keep planting new churches in London.  This is exciting because it shows new life growing in areas where the older denominations are in decline (often hidden because African members of those denominations have moved into that area and 'swell' the numbers).
Becontree Church is also closely supported by the 'London City Mission' which exists to fire up a love for the Lord Jesus Christ in areas of London unreached by middle class white churches.
Becontree Church is also linked to other like-minded local churches through the 'East London Gospel Partnership' (ELGP).  Many of the pastors meet every week to pray together, and we combine to put on high-quality bigger events for outsiders to hear about Christianity.
But Becontree Church is really for anyone who lives on the Becontree Estate.
And anyone who values careful Bible teaching and caring relationships will feel at home – so will anyone who has never been to church even once.
Mike Reith
Mike is the leader of Becontree Church. He is a recently retired CofE vicar (though "under-age" for retirement!). For 20 years he was the Vicar of Dagenham Parish Church.
He is married to Debbie, a Speech and Language Therapist who works locally. They have two children and, as a result, many grey hairs. They also have a labrador who keeps them active. They cycle everywhere, and use a tandem when they are cycling anywhere together.
You can contact Mike by emailing mike@becontreechurch.com or tweet @becontreemike
As of September 2015….
We've been joined by Rob Newham (LCM attached worker) and Hannah Williams (women and children's worker).  Rob & Hannah plan to marry in February and they'll move into the house next to the Becontree Church Centre.
Here's a picture of the old marrieds (Debbie & Mike), with the soon-to-be's!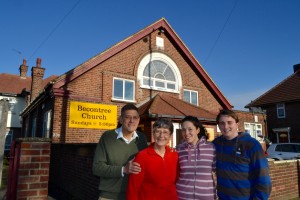 Did I hear you think you wanted a close up of the ones who really do the work?